A NEW ERA OF WORK
Today employees are working longer and harder and they need a work environment where they can meet, work, network, socialize and re-energize. More and more employees are choosing to work away from the office.
31% OF FULL TIME EMPLOYEES DO MOST OF THEIR WORK AWAY FROM THEIR EMPLOYERS' LOCATION
Workers are increasingly mobile and distributed. They often leave the office for a coffee shop or other third place, which separates them from coworkers, organizational resources and culture.
CREATING AN ON-SITE THIRD PLACE
For organizations there's an opportunity to provide something that is better than the local coffee shop. There's an opportunity to provide destinations on campus that have a cool vibe, great coffee and nourishing food, but are also highly-functional places to work.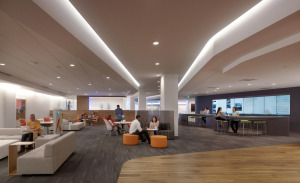 A WorkCafé is a dynamic space that connects people with colleagues, their work, and their organization. It transforms traditional corporate cafeteria real estate into destinations for connection, collaboration, focus and innovation. Because it's on campus, there's an inherent level of privacy that you don't have in a public space.
Click Here for additional information and resources.