media:scape Overview
media:scape with HD videoconferencing boosts collaboration across the table and connects teams across the globe.
---
What if you could remove the barriers to innovation?  Click here to learn how media:scape can be used to foster collaboration and increase innovation.
---
Through the integration of furniture and technology, media:scape is reshaping the way people collaborate in a connected world.
Most collaborative work spaces today support leader-led presentations where information is controlled and shared by one person at a time. media:scape removes these barriers and democratizes how people access and share information by allowing all participants to contribute their ideas – equally, quickly and seamlessly.
---
Features
media tables: shapes specifically developed to enhance collaboration. Available in three heights: lounge, seated and standing height
media:scape with HD videoconferencing: components to host third-party videoconferencing systems
media lounge: seating component
interactive technology built into media tables
3 year warranty on technology
lifetime warranty on furniture components
---
media:scape TeamStudio
TeamStudio is a comprehensive application for active project teams.
---
Available Fall 2013
As a family of products, media:scape brings together people, space, and information to boost collaboration and help teams excel. media:scape augments how teams collaborate, allowing participants to access and share their digital information equally, quickly, and seamlessly.
---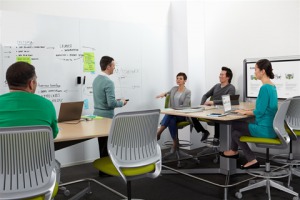 media:scape TeamStudio is a setting designed to support active project teams.
Removes both physical and virtual barriers
Allows participants to freely engage with both analog and digital tools
Creates an environment optimized for active collaboration.
Standing height provides optimized sight lines for active
project teams and promotes alternative postures.

---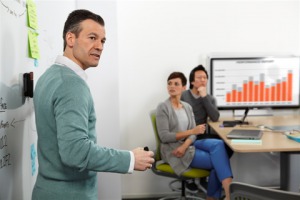 TeamStudio transforms as quickly as the conversation, easily hosting a large team brainstorming session or a small breakout session. media:scape TeamStudio connects local and globally distributed teams, amplifying collaboration to accelerate innovation.
It is ideal for large and small group interactions—with or without video.
The worksurface configuration allows for circulation between adjacent workspaces.
---
How it works
media:scape was designed for a "walk-up and connect" experience. Open. Connect. Share.
Open the media well and remove a Puck™
Connect the Puck to your laptop
Share what's on your laptop by pressing the Puck™
Your team members can do the same. Sharing made simple, quick and seamless … to increase productivity and innovation.
---
media:scape: Environmental
---
Environmental story
---
Environmental features:
media:scape technology components are RoHS/WEEE
The puck is designed for easy disassembly.
Some cabling is PVC free.
PVC-free edge banding is also available.
media:scape is SCS Indoor Advantage™ Indoor Air Quality Certified – both as systems furniture (excluding wood options) and as a lounge. The program tests and certifies products for compliance with USGBC LEED EQ4.5 (furniture and seating).
media:scape is level™ 1 certified, both as systems furniture and as a lounge. According to BIFMA, the level™ conformance mark ensures a comprehensive, independent and impartial assessment of the environmental and social impacts of a product's manufacture. level makes it easy to identify products that have been evaluated against a consensus-based, multi-attribute sustainability standard.
View media:scape's Product Environmental Profile.
For tech support, contact us at 1-800-334-4922 or techsupport@steelcase.com.
Click here for additional information and resources