Designed for the many needs of healthcare – Empath by Steelcase Health
Empath™, our latest recliner, is a crucial step forward in the patient care process ― one developed entirely from real-world insights. Our team spent more than 2,000 hours observing the relationship between caregivers and patients. We saw how current environments can be enhanced to reduce risks to both patients and caregivers, while increasing physical and emotional connectedness. Empath is designed to reduce the stress and potential for injury all users.
---
Design Story
Discovery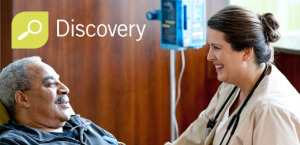 We researched real-life healthcare environments for over 2000 hours to understand how recliners are used.
---
Observations

As we observed how recliners are used, we saw they often present risks to both patients and caregivers.
---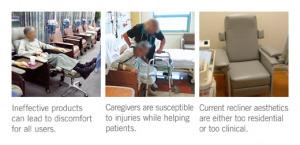 We recognized pain points that affect caregivers and patients.
---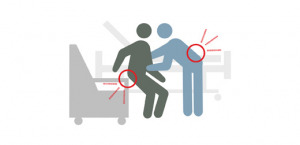 The bed-to-chair transfer is an inherently difficult, dynamic process and presents injury risks for patients and clinicians.
---
Design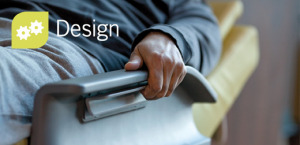 After our research, we analyzed and synthesized the data and discovered a need to reduce stress and potential injury. Designed with these discoveries, we developed a recliner as an important tool for caregivers and a step toward wellness for patients.
---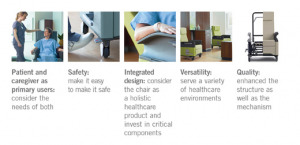 A recliner designed with insightful, user-friendly features.
---
Empath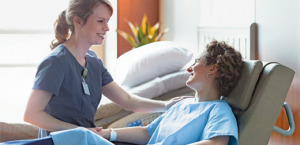 A solution that creates a safer, higher quality healthcare experience, for patients and caregivers.
---
Features
View the recliner
See Empath from every angle.
Central lock (dual-sided)

Easy-to-activate pedals are located where caregivers need them – tucked in toward the front – and can be easily activated from either side of the chair.
---
Back recline paddles (dual-sided)

Long ergonomic shape is easy for patients to reach whether upright or reclined.
---
Soft molded arms

Provide a natural grip and offer patients comfort and stability when getting in and out of the chair.
---
Casters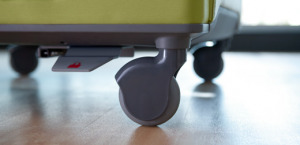 Four-inch non-marring casters glide silently for smooth operation.
---
Footrest Scallop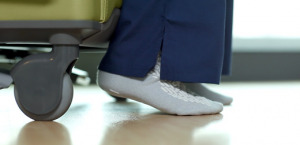 Made from soft urethane for comfort and durability, it facilitates exiting the chair and protects where feet touch most.
---
Bumpers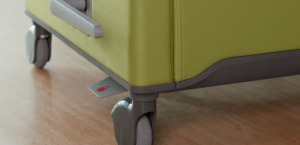 Offer a refined aesthetic while protecting the bottom of the recliner.
---
Flip-down arms

Provide barrier-free patient transfers and are available on either or both sides.
---
Trendelenburg (dual-sided)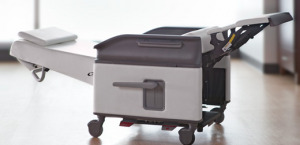 Foot-activated by the caregiver from either side to raise patient's feet above the head.
---
Adjustable headrest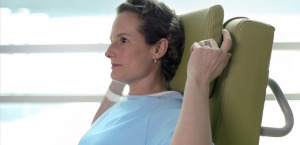 Moves up and down, or can flip over the top when not in use. Attached with zipper for easy removal.
---
Push bar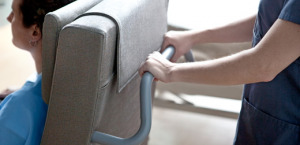 Ergonomically shaped for easy grip and chair maneuverability.
---
Pull-out footrest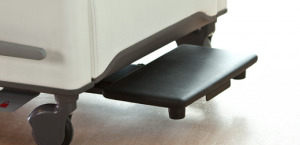 Slides out easily to support patient's feet when seated or moving.
---
Footrest control lever

Opens and closes the footrest separately from reclining motion for maximum control and comfort.
---
Heat and massage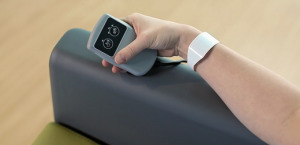 With three settings for each function, patients benefit from comfort and control.
---
IV pole and holder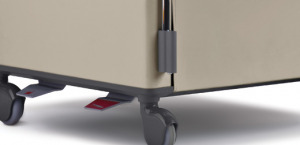 Height adjustable, the 3/4″ stainless steel pole fits into the holder located at the back of the arm panel, saving valuable floor space. The holder also accommodates 1/2″ IV poles for added flexibility.
---
Drainage bag holder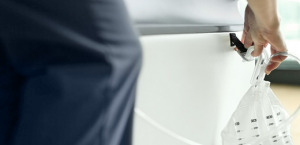 Accommodates a wide variety of drainage bags and lays flat when not in use.
---
A recliner that shows empathy
The thoughtful design of Empath considers both the patient and caregiver, and helps to provide a safer, easier transfer process.


Click here for additional information and resources.