Inner strength. Outer grace – Aspekt by Steelcase Health
Our innovative Aspekt™ series suits a range of a public seating needs. Its clean, minimal aesthetic helps reduce visual clutter, and wave-shaped arms and back contours are supported by steel frames for lightweight strength. Available with either convex or concave back shape, Aspekt serves as an individual solution or, when combined, creates a unique wavelike profile.
This collection contains:
Guest Seating
Bariatric Seating
Bench Seating
Easy-Access Hip height Seating
Stool Seating
Patient Seating
Tables
---
Design Story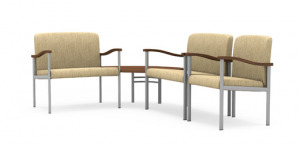 Aspekt also features surprising comfort through its active web-seat suspension design, which supports users for long stays. Arm caps have an overhang that's easy to grip when leaving the chair. There's also a practical clean-out space between the back and seat. The series is available in individual, two- and three-chair configurations, bariatric wide chair, easy access chair, patient high-back and foot stool.
Click here for additional information and resources.